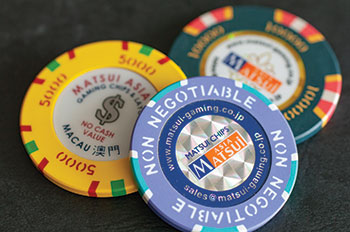 Celebrating its 40th anniversary in 2019, Matsui Asia is showcasing the latest additions to its gaming chip product line at G2E Asia.
The company's new casino chip series, Oval Premier Decal Chips, and a unique new design of chips are both being launched while Matsui's PJM RFID chips, which are licensed by partner Walker Digital Table System (WDTS), will also be on display.
"We are thrilled to introduce these new gaming chips as well as our other core products such as highly durable layouts to our customers," said Managing Director of Matsui's Macau subsidiary, Shigeki Machida.
"At G2E Asia, by way of the collaboration with WDTS, we will provide the demo of our PJM RFID Chips with their Perfect Pay Baccarat table and their Perfect Counter.
"Operators are increasingly aware of the importance of casino chip security and we believe that the new development and our partnership with WDTS will surely provide even more choice and better security options to our customers."