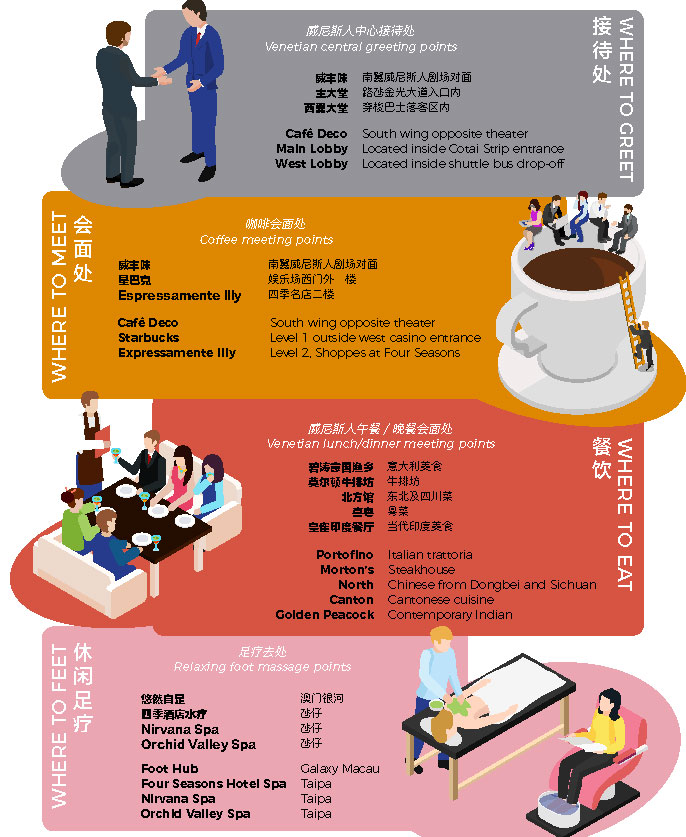 TAXIS
Taxis in Macau have a reputation for being difficult. With relatively limited supply, there can often be long lines to catch one and they will sometimes refuse fares to certaindestinations. Our tip is to always catch taxis from a designated taxi stand like those found at Macau's casinos and resorts. The good news is they are reasonably cheap.
SHUTTLE BUSES
A great alternative to get around Macau are the free shuttle buses offered by most of Macau's IR operators. Those with multiple properties provide a regular service between them, while another option is the Cotai Connect service which offers various routes connecting Galaxy, Broadway, Studio City, City of Dreams, the Venetian Macao, Sands Cotai Central, Wynn Palace and MGM Cotai.
HONG KONG AIRPORT FERRY AND BUSES
Cotai Water Jet, located at Taipa Ferry Terminal just five minutes from the Venetian by car, provides a fast and convenient way to get to Hong Kong International Airport from Macau. However, be aware that passengers must check-in at least one hour before the ferry's departure. The service runs six times per day. The launch of the Hong Kong-Zhuhai-Macau Bridge in 2018 also provided an efficient new means of reaching Hong Kong Airport with buses from the Macau checkpoint leaving every 10 to 15 minutes. The trip takes around 45 minutes.
CURRENCY
Macau has its own currency, the pataca (MOP), although Hong Kong dollars are accepted everywhere in Macau on a 1 to 1 basis. It is important to note that although Hong Kong dollars are accepted in Macau, Macau MOP is not accepted in Hong Kong – or anywhere else for that matter – so make sure you convert your MOP before you leave!