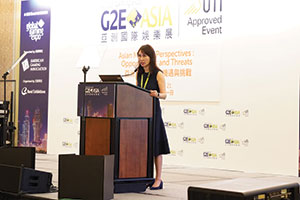 SJM Chairman Daisy Ho says Macau should follow the model adopted by Switzerland and implement a strategy to become a world leader in hospitality training and education.
Delivering the keynote address to launch G2E Asia 2019 on Tuesday morning, Ms Ho pointed to Switzerland's global reputation as a hospitality leader.
"Macau now has the necessary elements to move to the next level in hospitality training and education," she said. "Here is an opportunity for Macau to develop its institutions similar to another small region: Switzerland.
"Switzerland has a reputation as home to some of the highest-ranking hospitality education institutions in the world.
"It has achieved this status as a home to hospitality education which has allowed its graduates to achieve senior positions around the world."
Switzerland is home to many of the world's most respected hospitality schools, including Ecole Hôtelière de Lausanne and the Glion Institute of Higher Education, but Ms Ho believes Macau has the framework in place via its well-established IR industry to achieve a similar reputation.
"We look forward to seeing 'educated in Macau' or 'trained in Macau' prominently on the bios of hospitality executives in the future, in the same way that Switzerland has earned its reputation for hospitality education," she said.