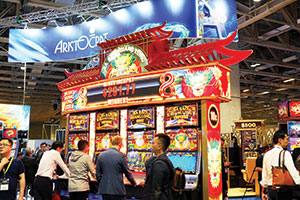 Aristocrat is debuting the newest addition to its Link portfolio on the show floor this week, "Ba Bao Huang Long".
Positioned as the spiritual successor to the popular Good Fortune family, "Ba Bao" features instant win cash-on-reels, strong game personality and hallmark Asian mechanics, modernized with Choose Your Volatility and Pick'Em Jackpot features.
"It's a build on those  mechanics that are all on trend in the region right now, so it combines a lot of what's working then takes it to the next level," said Aristocrat's Managing Director, Asia-Pacific, Chris Rowe.
"The product package, the graphics, the attract which features a dragon who grows in the time between features, the next level Pick'Em, the cash-on-reels, the 88 credit bet – it takes all the on trend mechanics and puts them together."
"Ba Bao Huang Long", which is expected to hit Asian markets later this year, comes with two base games – "Emperor" and "Ingot". Visit the Aristocrat booth for a demo.