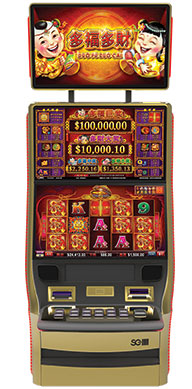 Big is good, but with DualosX, bigger is better! Celebrating Dualos's success, SG Gaming Asia is taking this player-popular cabinet to the next level with the release of the DualosX. Giving players more reasons to love its games. DualosX features bigger screens, bigger processing capabilities and bigger presence.
Since its launch, Dualos has become one of Asia's most loved gaming machine cabinets. Now that this bigger and better version is teaming up with Duo Fu Duo Cai's "5 Treasures" and "Diamond Eternity", players can find even more reasons to love it. Launched first in Australia at the Australasian Hospitality & Gaming Expo in April 2019, DualosX is now making its way to the Asian Market.
This new super cabinet has the signature 27–27–27 look, 27" high definition LCD topper, giving more presence on the floor and effectively promoting new game themes. The 27" main monitor and top box high-definition, high-brightness monitors offer higher luminance and deliver more engaging gameplay.
It comes with a faster processor with CPU4x and runs on Scientific Games' new ArgOS platform for enhanced game play and experience. Upgraded styling with a redesigned belly panel, edge lighting and surface finishes give DualosX a more contemporary feel and increased appeal among latest-generation gaming machines.
See this product at the SG booth at G2E Asia or contact your Scientific Games Regional Account Manager.